Mysterious Ways: A Murder of Crows
di Anneka Lowrie
Informazioni sul libro
A MURDER OF CROWS is a psychological thriller with a mystical twist that explores the intersection between ancient wisdom and the worst that human nature has to offer.

The Wilds of Pennsylvania are a remote place where most residents are proud, self-reliant and hardworking. Those qualities and the area's natural seclusion drew Johanna Kincaid to retire to the mountainside farm of Elk Run. She is enjoying an idyllic refuge from her former fast-paced life as psychologist to the wealthy and privileged.

However her newfound tranquility is quickly disrupted when a long time friend asks her to help with a troubling problem; how to hide the victim of a horrific crime from traffickers who want her dead. If she agrees, her life and the lives of her dearest friends will be in serious danger. If she fails, an innocent girl will die. Johanna must find a way to combine her adept knowledge of human behavior with her impeccable training as an apprentice shaman. As she maneuvers her way through a series of complicated events she discovers she, too, is being relentlessly tracked like prey.

Funzionalità e dettagli
Categoria principale: Delitti e misteri
Categorie aggiuntive Narrativa psicologica
Formato del progetto: 13×20 cm
N° di pagine: 216
Isbn

Copertina morbida: 9798211631687

Data di pubblicazione: gen 14, 2023
Lingua English
Parole chiave

Thriller

,

Psychological

,

Mystery

,

Shaman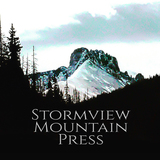 At Stormview Mountain we believe the relationship between writer and reader is sacred. When one reads, one allows magic to enter one's mind. We give permission to let our thoughts and imaginations be commandeered by a specific writer for a period of time. We permit ourselves to be inspired, provoked, entertained and influenced by the writer's ideas. We select authors who understand the integrity of this relationship. We offer them a platform, not only to sell their works, but to further develop a connection to their readerships. The dynamic interaction that occurs when a reader holds a book in their hands (or digital reader!) is unique. It is a nexus of minds. Stormview Mountain Press is like a modern day book drop!