The Magical Musical Journey. The Adventures of Luna. Bilingual English-Spanish.
Little Explorer, Big World
di Kike Calvo
Questo libro può essere trovato nelle librerie online, come Amazon.com, usando come riferimento i codici ISBN qui in basso:
ISBN Copertina morbida:
9798210980939
Informazioni sul libro
Embark on a captivating musical adventure filled with melody, rhythm, and friendship as you enter the enchanting world of "Luna's Magical Musical Journey." Join Luna, a creative and curious girl, and her faithful companion Alioli, as they uncover the mesmerizing power of music in a quiet and serene town. With the guidance of their newfound friends, Harmony, Rhythm, and Dynamics, Luna discovers the art of composing beautiful melodies that have the potential to touch the hearts of millions of children. This heartwarming story will inspire young readers to explore the boundless possibilities of music, encouraging them to unleash their creativity and embark on their own personal journey of self-expression. Let the enchantment of Luna's Magical Musical Journey ignite your imagination and immerse you in the irresistible rhythm of life.

¨After reading Luna's Magical Musical Journey, young readers will awaken their curiosity about music, feel its effect, and understand its significance. I invite you to follow in the footsteps of Luna and Alioli through the "Bosquecito" and discover a magical world full of music.¨ - Gilberto Santa Rosa, "The Salsa Gentleman," Singer. Winner of six Grammy Awards.
- - - - - - - - -
Embárcate en una cautivadora aventura musical llena de melodía, ritmo y amistad al entrar en el encantador mundo de "El Mágico Viaje Musical de Luna". Únete a Luna, una niña creativa y curiosa, y a su fiel compañero Alioli, mientras descubren el fascinante poder de la música en un tranquilo y sereno pueblo. Con la ayuda de sus nuevos amigos, Ritmo, Armonía y Dinámica, Luna descubre el arte de componer hermosas melodías que tienen el potencial de tocar los corazones de millones de niños. Esta conmovedora historia inspirará a los jóvenes lectores a explorar las infinitas posibilidades de la música, animándolos a liberar su creatividad y emprender su propio viaje personal de expresión.
Funzionalità e dettagli
Categoria principale: Bambini
Categorie aggiuntive Letteratura e narrativa, Ispirazione
Formato del progetto: 20×25 cm
N° di pagine: 28
Isbn

Copertina morbida: 9798210980939

Data di pubblicazione: ago 15, 2023
Lingua English
Parole chiave

bilingual

,

harmony

,

melody

,

Inspiration

,

music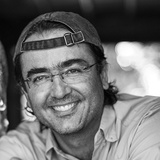 Award-winning photographer, journalist, and author Kike Calvo (pronounced Kee-Keh) specializes in culture and environment. He has been on assignment in dozens of countries, working on stories ranging from belugas in the Arctic to traditional Hmong costumes in Laos. Kike's images have been published in National Geographic Magazine, The New York Times, Time, The Wall Street Journal, The Washington Post, New York Magazine, Rolling Stone, and Vanity Fair, among others. A National Geographic Certified Educator. Kike is the co-founder of The Adventures of Pili initiative, a project with the mission to create bilingual books that will increase children's awareness of global environmental issues and foster multi-lingual literacy. Partnering with local NGOs, and adding the support of companies and readers, to date, thousands of free bilingual books have been given to kids living in remote communities around the world.